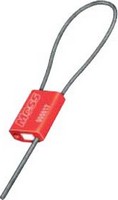 Cable Lock
Aluminium Housing
Non-Preformed Cable
Internal locking mechanism prevents cable from being retracted. Cable diameters 3,5 & 5,0 acredited to ISO 17712 & C-TPAT. Easily applied by hand. Non-preformed cable splays on cutting to prevent rejoining. Removed only with bolt cutters. Stocked with unique serial number.
bestelnr.
Color
afmetingen (mm)
Wire Diameter (mm)
Aantal in verp.
prijs/verpakking/st.
Prijs per st.
lengte
breedte
lengte
diameter
SECURE-1801
Red
32
22
300
2,5
250 st.
3,8 EUR
6,2 EUR
SECURE-1802
Green
32
22
300
3,5
250 st.
tel. Kč
tel. Kč
SECURE-1803
Blue
45
40
300
5,0
100 st.
tel. Kč
tel. Kč

Prices are without VAT. If specified order number, please, it will add it to the selected type of goods. We will be glad to send you any quantity.