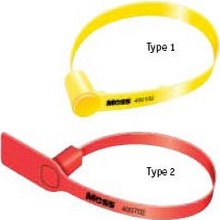 Fixed-Length Seals
Polypropylene
Highly flexible and versatile seal. Fixed-loop design. Double locking mechanism for enhanced level of security.
Type 1 with acetal locking mechanism for additional security.
Type 2 with identification tag for inclusion of additional information.
bestelnr.
type
Tie Size (mm)
Color
Aantal in verp.
prijs/verpakking/st.
Prijs per st.
lengte
breedte
dikte
SECURE-1601
1
203,5
9,0
1,25
Yellow
1000 st.
0,34 EUR
0,56 EUR
SECURE-1701
2
202,5
8,0
1,3
Red
1000 st.
0,36 EUR
0,59 EUR

Prijzen zijn exclusief de BTW en gelden bij betaling onder rembours.