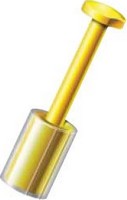 Cargo Bolt Seal
Yellow ABS and Steel
Plastic coating protects bolt from corrosion. Total seal encapsulation with one directional pin insertion prevents tampering. Matching serial number for pin and barrel for additional security. Removed only with bolt cutters. Stocked with unique serial number. ISO/DIS 17712.2 compliant.


bestelnr.
Locking Dimensions (mm)
Barrier
Diameter (mm)
Color
Aantal in verp.
prijs/verpakking/st.
Prijs per st.
Distance
diameter [mm]
SECURE-1901
48
9,0-19,0
25
Yellow
250 st.
3,7 EUR
6 EUR

Prijzen zijn exclusief de BTW en gelden bij betaling onder rembours.