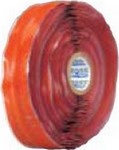 Eze- Wrap Tape up to +260°C
Silicone Rubber
Self-fusing tape, adheres to itself to form a homogenous mass, providing excellent sealing. Forms a homogenous mass within 24 hours at room temperature or four minutes at +180°C. No adhesive, therefore no residue when removed. Easy to mould to irregular-shaped objects.
bestelnr.
afmetingen (mm)
Aantal in verp.
prijs/st.
breedte (mm)
lengte (m)
800/1
25,4
10,9
1 st.
49 EUR

Prijzen zijn exclusief de BTW en gelden bij betaling onder rembours.